Before Getting Starting, Take a Look at Some of Our Many Customer Reviews Here!
Then, When You're Ready, Give Us a Call at (800) 422-7483!
---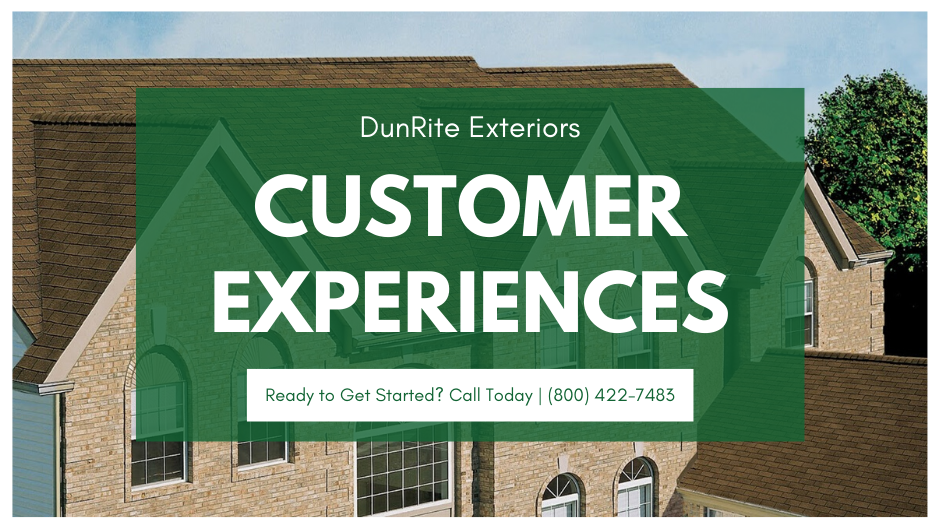 ---
The Crew Was Friendly and Efficient...
"DunRite Exteriors replaced the shingles on our house, garage and shed April 2019. Our entire experience with this company was excellent. We highly recommend DunRite Exteriors based on their knowledgeable staff, top-notch communication, professionalism, fair pricing, quality workmanship, good cleanup and our beautiful roofs … but mostly based on their integrity … and our peace of mind that the job was done right and without hidden expenses.

We chose DunRite Exteriors after contacting three other roofing companies. DunRite's representative (Gus) arrived timely to inspect our roofs and provide a free estimate. He spent over 2 hours thoroughly answering all our many questions. He explained the entire job process and informed us of the shingle/material options available. At our request, he gladly provided estimates for both GAF and IKO shingles - with and without the garage and shed. He addressed all our concerns and openly disclosed any possible additional costs (minimal flat cost per sheet of roof decking if rotted wood was found when old shingles were torn off).

We did not have the same positive experience with the other three companies. They all had an A+ rating with the BBB and were insured, but they all fell short on either communication, timeliness of appointment/providing estimate, or competitive pricing. With DunRite Exteriors we felt like a valued potential customer rather than just a source of revenue so we contracted their services and scheduled a flexible date for the install.

The roofing crew arrived early morning and immediately started stripping off the old shingles. (We did not have to replace additional wood decking.) They all worked very hard for over 12 hours. There was a crew on the roof installing materials and a crew on the ground keeping the area clean and being careful not to damage our flower beds. They returned the following day and finished the job in just a couple hours. The job went a lot faster than we thought it would! The crew was friendly and efficient … and the new roofs look great. It rained after the install, and we did not find any problems with their workmanship."
- Kathy Cummings.
---
This Is the Place to Go To...
"AMAZING attention to all details. First class job. When you consider spending this kind of money and making an important investment, this is the place to go to. We are confident our roof will last and they will stand behind their work 100% Our choice for roof work was based on the fantastic work they did on our gutters a couple of years back."
- John P.
---
Rocked out the Project Quickly, Did Beautiful Work...
"The crew DunRite sent out to us was outstanding. We're putting on an addition and have encountered several hiccups and issues but working with these guys was a breeze!

Donnie, Bret and Tim came in and got straight to work every day they were here. Rocked out the project quickly, did beautiful work, cleaned up completely after themselves and seemed to be just as invested in getting their work done quickly and correctly as we are.
I can't thank them enough.

When we have to party to celebrate being done with the addition they are welcome to join us in our home."
- Amy DVan.
---
Cleaned up After Themselves and Did a Great Job...
"I had Gus come out for my leaking roof when no one else would show up and now I don't have a leaky roof. they replaced the whole back section and the crew was on time, cleaned up after themselves and did a great job. thanks Dunrite and Gus."
- John Taktikos.
---
Expressed Sincere Interest to Solve My Problem....
"I was very impressed with the quality and workmanship of K Guard/DunRite. I called several roofing companies that either wanted a deposit just to come do an inspection or provide me with a quote for simply doing band aid type fixes (Jelek Roofing). These other companies were so unprofessional and simply wanted my money without fundamentally fixing my problem. This was not the case with K Guard/DunRite. I worked with Mike and he came by to do the inspection and spelled out for me all that needed to be done to my roof. A few years ago we hired the Amish to do a new roof. These Amish did not do a good job and I had leaks in my roof. If you are looking for a company to do the right thing and to treat customers with respect, hire K Guard/DunRite. Everyone in the office, the team who did the work, and Mike were all professional, knowledgeable, and expressed sincere interest to solve my problem and treat me well. I am very happy."
- Nicole Karlak.
---
Always Pleasant and Ready to Help...
"Everyone I talk to is always pleasant and ready to help . . from the girls in the office to the sales staff and those who do the work. I am always pleased."
- Melanie Linderman.
---
DunRite Exteriors - On the Best Roof's in Ohio

1 (800) 422-7483

---