Roof Inspections, Guarantees, Roof Options, Preventive Maintenance, and Trouble Spots
When It Comes to Your Roof, Give Dunrite Exteriors a Call at (800) 422-7483
---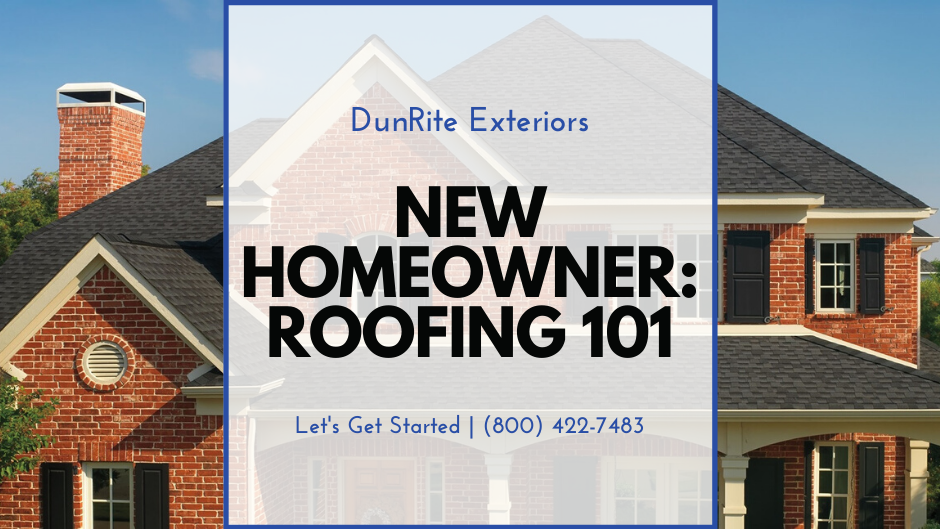 ---
Five Things to Advise New Homeowners About Their Roof
Homeownership is an exciting venture, but for those first-timers, it can also be a scary step. Not only does owning a home introduce buyers to the daunting mortgage process, but there are many things about their home they need to understand to ensure that it will protect their loved ones for many years to come. Here are some tips every new homeowner should know so that they are prepared for the unexpected issues that may come their way:
Get a Roof Inspection. Every home needs an inspection before it is sold, but most of the time a house inspector does not climb up on the roof. It's best to hire a roofing professional to advise of any upgrades or repairs that need to be addressed.
Get a Guarantee. Get a guarantee of the work a contractor does for you. ALWAYS ask for documentation such as a license number, so that you know to work only with a reputable contractor. Head over and read 10 Tips to Help Homeowners Choose the Right Roofing Contractor for help with what to look for in a contractor.
Learn About Roof Options. New homeowners especially are not aware of the many choices they have in roofing materials. For example, if energy efficiency is important, you can find options that will save you money on your heating or air conditioning bills. Additionally, if you live in an area that is prone to storms or hail, there are a wide variety of benefits of choosing impact-resistant shingles.
Invest in Preventive Maintenance. When you address minor issues ahead of time, you could potentially avoid large, expensive repairs later down the road!
Point Out the Trouble Spots. It's important to be aware of leak-prone areas such as skylights, flashing, and gutters and learn how to properly take care of them. Give us a call today to learn more - 1 (800) 422-7483!
---
In Conclusion - Protect Your Roof and Your Family
A new homeowner who is prepared and informed about their roof can better identify problems and help ensure their new home will protect them and provide a safe haven for their family to enjoy. If you want to learn more about your roof and how to properly take care of it, give our qualified team members at DunRite Exteriors a call today at - 1 (800) 422-7483!
---
DunRite Exteriors - On the Best Roof's in Ohio

1 (800) 422-7483

---