Here Are a Few Tips to Follow When Assessing Storm-Related Damage
Then, Get Your FREE Storm Damage Evaluation from DunRite Exteriors Today!
---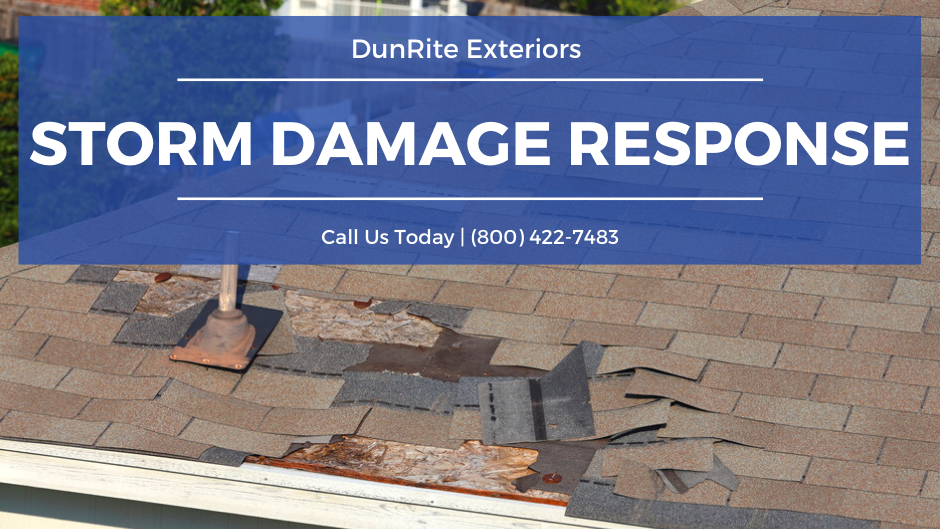 ---
Common Types of Storm Damage
A storm commonly causes the following four types of storm damage:
High Winds: Strong winds that typically accompany storms can cause shingles to crack, bend, or fly off, leaving your roof and the interior of your home vulnerable to leaks or further damage.

Hail: Hailstorms rarely last more than 15 minutes, but the damage can be devastating. Hail pounding on your roof can cause dents, missing asphalt, bruising, or cracking in your shingles.

Standing Water: Flat roofs without proper drainage may collect water in uneven areas, while clogged gutters can back water up under your shingles.

Debris: Depending upon the severity of the storm, debris can include anything from branches to yard furniture. It's important to remember that impact damage might not be visible from the surface of the shingle.
---
This Checklist Will Help You with Your Roof Inspection
The following few tips will come in handy when assessing storm-related damage. Please note that if you do discover damage, it's crucial that you find and hire a local, reputable roofing contractor right away. In doing so, you will ensure that the damage doesn't get worse. It's also important to keep in mind that after a storm, you may receive solicitations from unfamiliar contractors looking for work. When searching for reputable, factory-certified contractors in your area, hire a GAF contractor such as DunRite Exteriors!
Inside: Begin in the attic, if it's accessible, during the daytime.

Outside: You may be able to see most, if not all, of your roof from ground level. Walk around your house, examining the roof for these signs of damage.

Up the Ladder: If you are comfortable climbing a ladder and the weather conditions allow you to do so safely, you can get a better look at your roof up close.
---
Are You Getting Your Contractor's Best Work?
These insider tips will ensure that you always get your contractor's best work:
Get local referrals. There is less chance of disappointments when you choose a contractor from your community.
Look for manufacturer designations. The contractor must pass certain minimum requirements to be factory certified. Only 2% of roofing contractors are recognized as GAF Master Elite® Contractors.
Research Better Business Bureau (BBB) ratings. GAF Master Elite® Contractors are required to maintain satisfactory ratings with the BBB in order to retain their certification.
---
Dealing with Your Insurance Company
Once you choose a contractor, it is likely that they will recommend you call your insurance company and file a claim. In most cases, your insurance company will send out an insurance adjuster to evaluate the damage and work with you to resolve the claim. Most insurance adjusters are experienced with many elements of a home's construction, but may not be roofing experts or have the ability to climb on your roof, so it may be a good idea to have your GAF factory-certified contractor meet your adjuster at your home.
The information above was found on gaf.com
---
Don't Wait! Repairs or Replacements Should ASAP!
Strong storms cause billions of dollars worth of damage to homes across America each year. Wind, hail and ice can affect the life of your roof. Here at DunRite Exteriors, we can help you restore your home after Mother Nature takes its toll.
Many homeowners may not be aware that their homes were damaged from a storm. It's important that you have your property inspected in a timely manner. After a thorough inspection, we will let you know if there is enough damage to file a claim.
Ultimately, it's up to your insurance adjuster to determine if they are going to pay out on a claim. All insurance companies have timelines for filing claims, and if you delay, it's possible that your insurance company may not approve your claim. Your first step should be to contact DunRite Exteriors for a Free Storm Damage Evaluation!
REMEMBER: Regardless of how urgent your roof repair needs are, it's always best to secure a reputable locally owned Ohio roofing contractor rather than getting involved with a fly-by-night storm chaser.
---
DunRite Exteriors - On the Best Roof's in Ohio

1 (800) 422-7483

---