Roofs, Windows, Siding and Gutter Filter!
Mention This Code to Receive an Additional $200.00 OFF - SM77!
---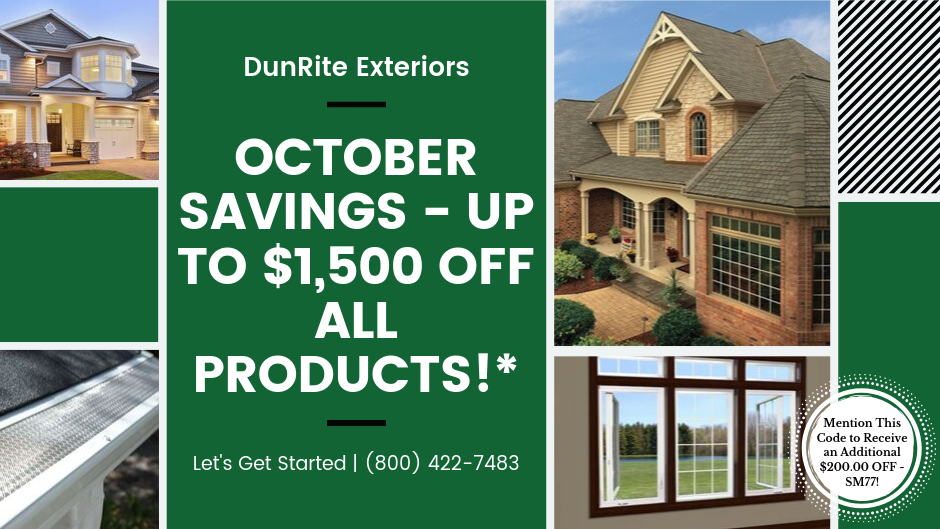 ---
Residential Roofing
Are you looking to replace your roof? As one of the largest roofing contractors serving the Cleveland, Akron and Canton areas, DunRite is the smart choice. With more than twenty years of roofing installation experience we get it Done Right!
Our Northeast Ohio headquarters, we know what it takes to meet the needs of Ohio property owners. With a licensed, bonded and insured crew of workers, we ensure that we care for your investment as if it was our own.
DunRite stands apart from the competition in Northeast Ohio, with our certification allowing us to offer the best shingle warranties from the three main roofing manufacturers. GAF, Owens Corning and CertainTeed.
---
Don't Forget About Our Available Siding Options
DunRite offers a variety of quality siding products to meet your needs including all vinyl and aluminum siding products and accessories offered by Alside. We feature Alside Charter Oak, Odyssey, and Coventry panels. The Odyssey panel includes a double-thick nail hem, which gives the panel exceptional wall-gripping strength, capable of withstanding the catastrophic winds that can strike Northeast Ohio. Charter Oak features a TriBeam design system that provides extra-stiff support to enable easy installation and superior rigidity. The Coventry panel features a raised grain for a realistic look and feel. We offer a full range of fascia & soffit to go with any siding installation.
We also offer a full range of gutter and downspout services. Gutters are usually taken for granted until it rains! If neglected, they can cause extensive damage to both the outside and inside of your home.
---
Gutters and Roofing Go Hand-In-Hand
In addition to roofing, we also proudly install a variety of gutter systems. Gutters and Roofing go hand-in-hand and DunRite Exteriors has installed thousands of Roofs AND Gutter Systems throughout Northeast Ohio. Let us put our expertise to work for you – with or without a Roof. Call DunRite Exteriors today for a FREE NO-OBLIGATION ESTIMATE.
---
Last but Not Least, Try One of Our Window Options!
The right replacement windows say a lot about the pride you take in your home. They make a statement about your personal taste as well as your appreciation for quality craftsmanship and genuine value. DunRite Windows strike the perfect balance between smart style and total comfort. From their sleek, elegant but simple design, to the strength of their vinyl frame and sashes, DunRite Windows are in a class by themselves. Choose from either our Integrity - Series, Loyalty - Series or Honesty - Series!
---
Up To $1,500 OFF ALL Our Products
Now Through The End Of October - SAVE up to $1,500 OFF ALL of our products*
Roofs, Windows, Siding AND Gutter Filter!
When you're ready to get started, give us a call today at (800) 422-7483!
And, take advantage of our Special Financing:
0 Money Down, 0 Payments, 0 Interest for 24 Months
*Restriction apply. Not valid on prior sales. Expires 10/31/19
---
DunRite Exteriors - On the Best Roof's in Ohio

1 (800) 422-7483

---
Top