We're Looking for Candidates to Install Our Gutter Filter Leaf Protection System
We Offer Steady Work Schedules Year-Round & Weekends Are Optional For Extra Money
---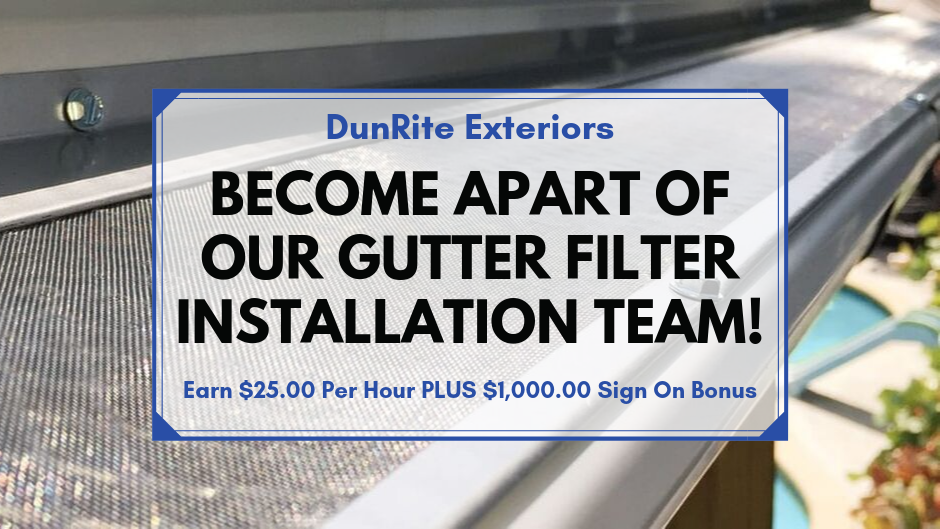 ---
You Will Earn Top Wages Each Week!
Gutter Installer * Earn $25.00 Per Hour + $1,000.00 Sign On Bonus (Akron)

$75.00 per week attendance bonus.

Company truck program for foreman.
Yes, that's right - $25.00 Per Hour with Health Insurance * full-time steady work. Our team at Dunrite Exteriors is growing and we're looking to fill the limited positions ASAP!!! You will earn top wages each week. Candidates will be installing our Gutter Filter leaf protection system, this superior gutter product is exclusive to our area. The candidate will also be installing standard 5" and 6" gutter systems.
If you have roofing, siding or gutter experience and are willing to learn and make a great living please call us ASAP. We offer steady work schedules year-round and weekends are optional to make additional money but are not required. Joining our team atmosphere will allow you to rise to your full potential and receive all the support required to be successful!
*We are looking for Foreman and General Laborers (Experience would be great but not required).

*We will train the right person(s). This is a blue-collar job for hard workers that like to get compensated well for their efforts.

*We also offer a tool program for qualified candidates.

*Limited positions available!!!
---
Fill out Your Application Here!
If you're ready to fill out your application, please visit our Employment Opportunities Page to apply today.
---
DunRite Exteriors - On the Best Roof's in Ohio

1 (800) 422-7483

---