Having the Confidence in the Quality & Security of Your Home's Roofing Is Vital
For All of Your Homes Roofing Needs, Give Our Qualified Team Members a Call!
---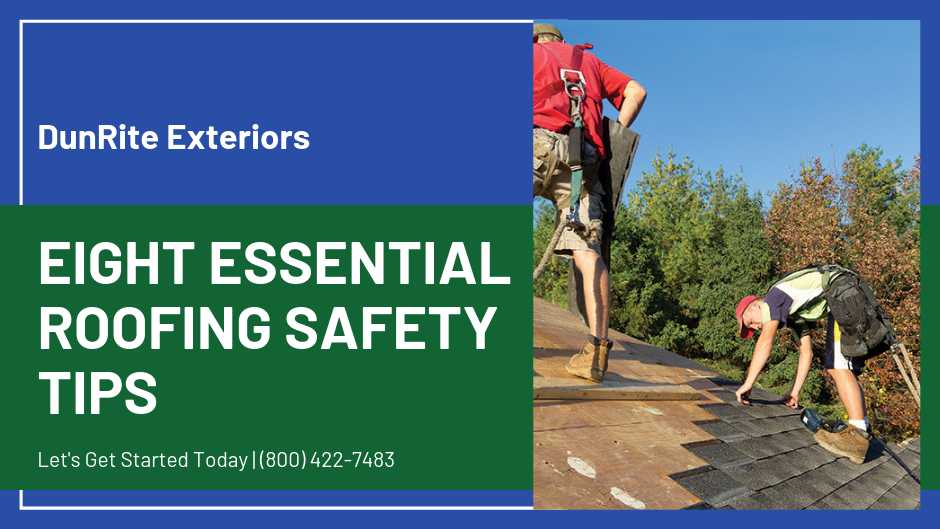 ---
Eight Essential Roofing Safety Tips
Having the confidence in the quality and security of your home's roofing is absolutely vital. Long term problems with the security and dependability of a home roof can be costly - both financially and in peace of mind. Trusting in the experience of a well-known specialist in roofing can hold the key to creating a sturdy and well looked after roof.
Here are the essential tips for safety that everyone opting for premium roofing work should pay close attention to.
Avoid working in wet or windy weather. Moisture and wet leaves on a roof can cause dangerous slippages and loss of footing. This can be extremely dangerous and should be avoided at all costs. Similarly, a sudden gust of wind can make working conditions worryingly difficult and hazardous.
Use the correct ladder and steps. A ladder is perhaps the most important of all roofing equipment and should be treated as such. Only regularly inspected ladders and steps with adequate safety catches should be used.
Always use a safety harness. A harness may not look like the most comfortable of working accessories but should an accident occur on a roof, this safety provision can make all the difference between a serious accident and the ability to continue working.
Clothing and accessories. Paying mind to the clothing and footwear used in a roofing job is necessary for all elevated working activities. Shoes or boots with good gripping soles can maximize a sure footing. A sturdy safety helmet should also be used to further enhance the safety of a working uniform.
Clear and clean the site. The immediate area around a working site must be kept clear from all debris and objects. Minimizing the risk of slippage or tripping over things is essential. Clearing things away as you work should be the key feature here.
Keep your eyes on the roof. Keep any possible distractions to a minimum by letting everyone around you know that you are working on an important job. Possibly using warning signs to gain people's attention to the task at hand could be a good idea.
Protecting the eaves. When working on a roof strict attention should be paid to your eaves trough. Troughs and gutters must be regularly cleared of debris and leaves. Failure to do so can easily damage the entire structure of a roof.
Proper inspection and installation. A professional inspection should ideally be carried out prior to major roofing work. If you happen to feel uncertain about any area of the roofing activity it is always best to call out the experts.
The Information Above Was Found On healthsafety.com
---
DunRite Exteriors - On the Best Roof's in Ohio

1 (800) 422-7483

---