Find out How to Get Two Free Tickets from DunRite!
Join Us at the 38th Annual NARI Home Improvement Show January 17th-20th!

---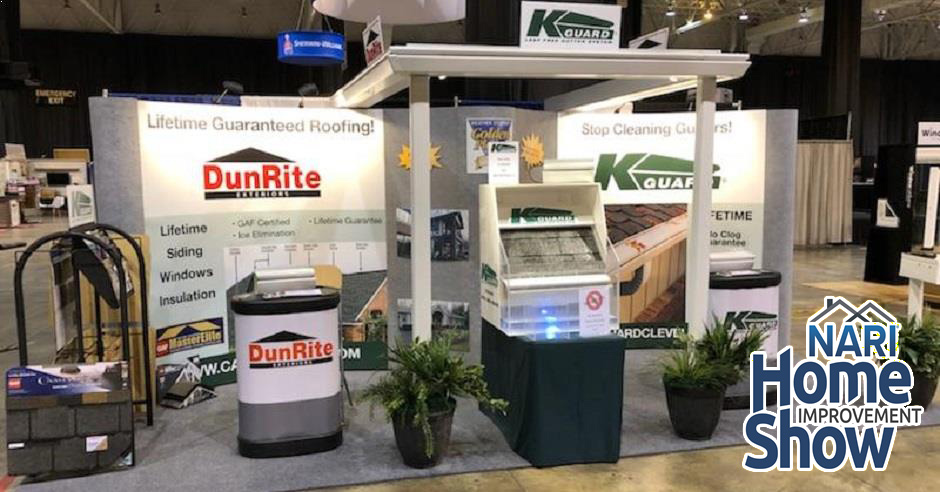 ---
Remodeling Done Right
...at the Home Improvement Event of the Year! The 38th Annual NARI Home Improvement Show has everything you need to update, renovate and recreate your home, inside and out. Meet with the area's most skilled remodeling contractors. Tour our dynamic features areas that showcase the latest in products, services and design trends.

The national award-winning NARI Home Improvement Show presented by the Greater Cleveland Chapter has some of the best local and national contractors, suppliers and distributors in the home improvement industry, all under one roof. This is the perfect opportunity for you to meet face-to-face with a professional contractor for your next home improvement project. You can walk through some of the great feature areas that will be on the show floor to get some awesome ideas for your own home improvement projects that you are planing on this year.

This is the perfect event for you and you family to come and spend the day.  You can meet and learn from experienced professionals who will be giving on-site seminars, how-to clinics, and DIY presentations.  It is our mission to provide you with a convenient, cost-effective way to meet the area's most talented home improvement contractors and discover the latest remodeling trends and products available for your next project.

We look forward to seeing you at the show!
---
Show Dates and Hours
Thursday, January 17 - Noon – 7:00pm
Friday, January 18 - 10:00am – 9:00pm
Saturday, January 19 - 10:00am – 9:00pm
Sunday, January 20 - 10:00am – 5:00pm
Location
I-X Center
One I-X Center Drive
Cleveland, OH 44135
Learn More About the Nari Home Improvement Show Here
---
How to Get Two Free Tickets to the Show
Would you like two FREE tickets to the NARI Home Improvement Show? All you have to do is head over and like our facebook page! After you have liked our page, you can pick up your tickets from our office between 9:00 am and 5:00 pm. We will have a list of the facebook users who have recently liked our page!
We hope to see YOU at our booth #757!
---
DunRite Exteriors - On the Best Roof's in Ohio

1 (800) 422-7483

---
Top