Let Our Customer Reviews Help Show You Why so Many People Choose Us!
Want to Find out Even More About Us? Give Us a Call at (800) 422-7483
---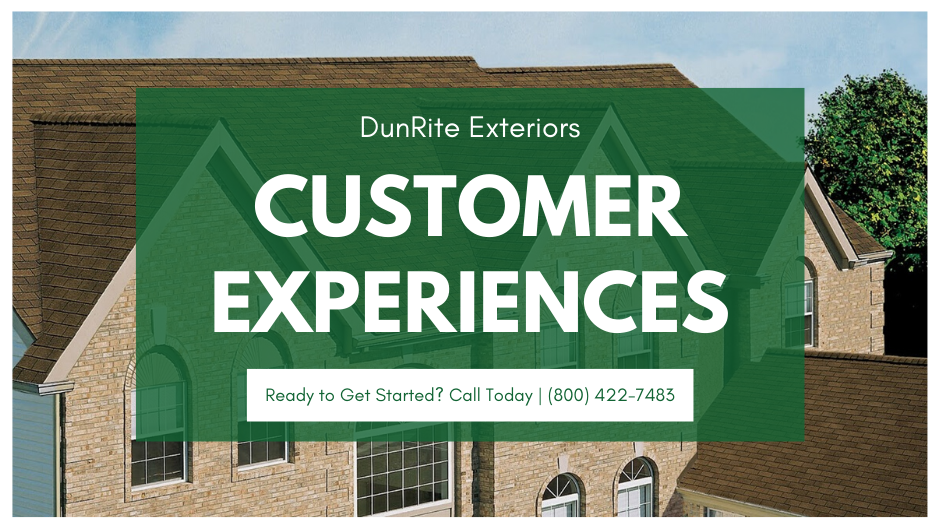 ---
gutters look great, thank you...
"Kristen Steck is extremely happy with her new Gutter System. This is what Kriten had to say, "Gutters look great! Thank you!" We would like to thank Kriten for her business."
- Kristen Steck.
---
I would HIGHLY recommend this company...
"Highly recommend DunRite Exteriors! Everyone was courteous and professional from start to finish. The end result is absolutely flawless! We had new gutters and all new siding installed. The crew stayed onsite until the project was finished and they had to battle some brutal weather days. We are extremely happy with the end result. Would highly recommend DunRite Exteriors and we intend on using them for future projects. Job well done!!!!"
- Kyle Gliha.
---
Can't explain what a great experience this was...
"Can't explain what a great experience this was, my insurance company refused to pay and then would only cover half the roof. But my rep Gus T went above and beyond to help me get this covered! it took him several visits, many emails and even more phone calls to make it happen. He went above and beyond since my adjuster was not reasonable or knowledgeable of our local codes. The crew did an amazing job with the whole job. They showed up at 7am and worked very hard to get my roof done and cleaned up perfectly. Thank you very much Dunrite and Gus!"
- Kelly Kalliopi.
---
They Just Kept Working Till All My Gutters Were Up....
"Joel and Charlie arrived on time. Greeted me and got right to work. It was a very cold day, 38 degrees but they just kept working till all my gutters were up. I asked them to haul away all the old gutters that my builders tore down and they cleaned it all up. Great guys!"
- Susan Dolan.
---
took care of all the insurance stuff and did a great job...
"Had wind damage to my siding and this company did the repairs. They took care of all the insurance stuff and did a great job installing the product. The new gutters are superior quality and look great. Before final payment they do a walk through and all the little things I saw but was okay with they sent someone out and repaired. Would highly recommend"
- Dan P.
---
We are confident our roof will last...
"We were very happy with quality work and service provided by Dun Rite! We had our roof completely redone - tearing off three old layers and making sure we had the right material on our low slope porch. The installation team was pretty efficient and friendly. The products seemed to be of great quality. I appreciated Mike's time for our estimate and explanation of the process. The production manager made sure to clean up a couple issues/small things that are bound to happen in this type of job and did so in a timely manner. We have used them for our windows, siding, garage roof, gutters (the clog free does not disappoint two years later!) and now our house roof. We were very happy with the outcome in all instances and would recommend them. We will definitely use them again for future projects!"
- Mandi N.
---
Very satisfied with the entire process...
"Prompt response for a roof installation quote. Listened to all of my questions. Installation crew came out very promptly on agreed upon date and worked the entire day. Crew was friendly, courteous, quiet, as well as being knowledgeable. Removed the old roofing and finished installation in two days. Tarped landscaping all around the house. Cleaned up all materials and debris when finished. Very satisfied with the entire process. Highly recommend Dunrite Exteriors."
- Paul Moeseenko
---
DunRite Exteriors - On the Best Roof's in Ohio

1 (800) 422-7483

---