There Are Many Critical Safety Issues to Consider Before Taking on a Roofing Job Yourself
A Roof Is Made up of More Than Shingles and Is Far More Dangerous Than You Think!
---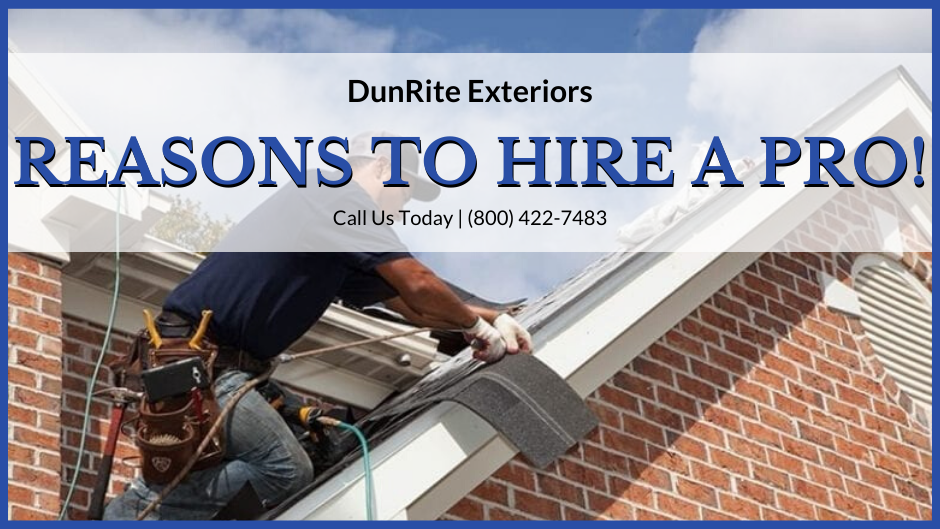 ---
Self-Evaluation
Many people think that installing a new roof is nothing more than just nailing up some shingles. The truth is, a properly installed roof is a complex system of components working together to keep water (and the damage it can do) outside of your home. Think about your car: a mechanic doesn't drop off a system of parts for your car in your driveway and expect you to assemble the vehicle. Competent roofing contractors spend years learning their trade. They train long hours to learn how to properly handle and install roofing system materials, identify risks, keep themselves safe, and follow mandatory building regulations - all while keeping water out.
In addition to training, roofing involves a great deal of physical labor, especially if you plan to tear off your existing roof before installing the new one. If you're not comfortable walking on a roof or carrying heavy objects up a ladder, you should think twice about taking on a roofing job. Can you lift 50 pounds? Do you have a fear of heights?
There are many critical safety issues you must consider before undertaking such a task (see our Safety section for more details). It's also important to have the correct tools and safety equipment, and to know how to use them properly. Disregarding any of these steps could result in serious problems or even injury. Before you make a decision about doing your own roof, review the materials on this website to gain a better understanding of the requirements of the total project. If it seems daunting, it may be better to hire a professional.
---
How Much Could I Save If I Do It Myself?
Many factors go into a professional cost estimate for a roofing job—everything from tearing off the existing roof, installing new shingles, and structural repair to disposal of old materials, clean up, and rental of equipment. Other factors include the size of your roof, how steep the slope is, and the amount of roofing materials you need. It is possible that by installing a roof on your own, you might save a few hundred or even a few thousand dollars.
However, you should carefully consider if this savings is worth the risk. Roofing is a dangerous business. If either you or someone else gets hurt, you may need to hire someone to complete the job anyway. Is it worth that extra cost—and your personal safety? What if a mistake is made when installing roofing materials, or the inside of your house gets wet from a leak? You will incur added costs to fix those problems as well.
Ultimately, your best option is to choose a professional roofing contractor who can do the job efficiently and safely. GAF factory-certified Master Elite® Contractors are state licensed, adequately insured, have a proven reputation, and are committed to ongoing training to ensure high-quality installation.
The Information Above was Found on gaf.com
---
Don't Stress, Our Highly Trained Team Members at DunRite Exteriors Can Help!
As an industry leader based out of Macedonia, OH, we have become one of Ohio' s most reliable and respected roofing companies. We continuously strive to provide a high level of value and customer service to our residential and commercial customers.
We service all of Northeastern Ohio's roofing needs in Akron, Cleveland, Canton and all surrounding areas.
We pride ourselves in being at the forefront of roof system technologies, and application techniques. DunRite is the only roofing contractor in Ohio certified to offer the highest rated warranties of the three major shingle manufacturers. The entire DunRite team is committed to meeting your roofing needs, and as a result, a high percentage of our business is from repeat customers and referrals.
When you want it done right, call DunRite Exteriors - 216.586.2110!
---
DunRite Exteriors - On the Best Roof's in Ohio

1 (800) 422-7483

---