Picking The Right Siding Color Can Make Your Home Look Better Than Ever!
Our Qualified Team at DunRite Exteriors Can Assist You with All of Your Siding Needs!
---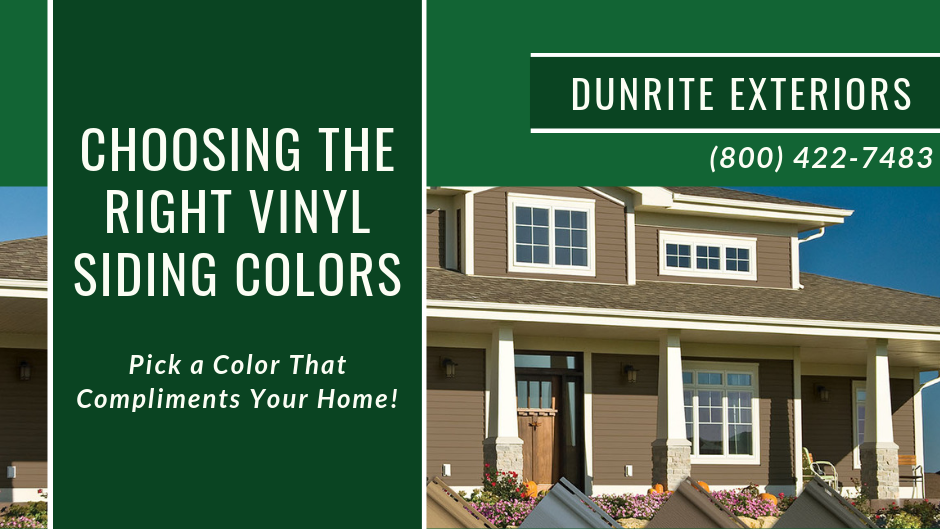 ---
Picking the Right Color Choice for Your Home Is Essential
Vinyl siding remains a favorite among homeowners for its energy-efficient and low-maintenance qualities. When it comes time to replace or update your home's siding, it's important to pick the right color or colors to complement your home's design.
---
Vinyl Siding Colors and Resale Value
If you're updating your home with the intent to sell, there are a few colors to steer clear of. Greens, yellows and dark browns typically put off buyers. These colors had their brief moment in the sun, but buyers now consider them outdated.
A combination of crisp whites, warm beiges and light grays is more appealing. These vinyl siding colors can help a house look bright, new and clean.
---
Know Your Style Before You Choose Siding
Does your neighborhood or the actual shape and design of your home lend itself to a certain style? If your neighborhood features Cape Cod style homes, clean white siding with dark gray or blue features will refresh your style while remaining cohesive with your surroundings. If your home was built with rustic stone features, a warm beige or cream siding will enhance them.
It's helpful to take a quick drive around your neighborhood. Look for homes that always catch your eye. What siding color combinations are they using?
---
Virtual Design Tools for Vinyl Siding
If you aren't great at visualizing the final product, use technology to see it digitally before you make any purchases. Many companies offer virtual design tools that allow you to customize the siding, roof and replacement windows on stock photos of homes or even a picture of your own home. For example, here at DunRite Exteriors, we install Alside Siding. If you visit there website here, you will be able to utilize their "Alside Visualizer" to make your dream home a reality!
The Information Below Was Found On angieslist.com
---
Are You Ready to Get Started? So Are We!
DunRite offers a variety of quality siding products to meet your needs including all vinyl and aluminum siding products and accessories offered by Alside. We feature Alside Charter Oak, Odyssey, and Coventry panels. The Odyssey panel includes a double-thick nail hem, which gives the panel exceptional wall-gripping strength, capable of withstanding the catastrophic winds that can strike Northeast Ohio. Charter Oak features a TriBeam design system that provides extra-stiff support to enable easy installation and superior rigidity. The Coventry panel features a raised grain for a realistic look and feel. We offer a full range of fascia & soffit to go with any siding installation.
When you're ready to get started, please feel free to give us a call at (800) 422-7483 and our qualified team members would be more than happy to discuss all of our available siding options with you! Additionally, if you need assistance with anything else, such as roof repair or replacement, window replacement, gutter installation, etc. we've got you covered there as well! We look forward to hearing from you and hope to work with you very soon!
---
DunRite Exteriors - On the Best Roof's in Ohio

1 (800) 422-7483

---