Don't Get Discouraged! Here's How to Find the Right Contractor for the Right Job
With a Little Homework and Planning, Finding the Perfect Contractor Can Be Easy
---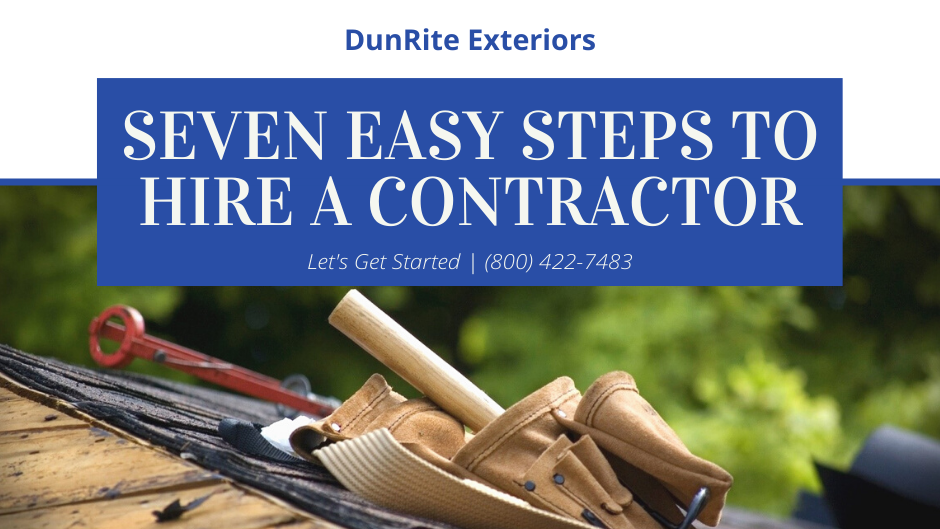 ---
Don't Get Discouraged! Here's How to Find the Right Contractor for the Right Job
Hiring the right contractor will turn your renovation project into a dream but hiring the wrong contractor will turn that dream into a never-ending nightmare. For a lot of people, the idea of searching for a contractor can cause unwanted stress and can even make them want to give up entirely. Some people will even end up hiring the first name they find. But with a little homework and planning, finding the perfect contractor can be an easy process!
---
Step 1: Be Confident

Treat this as if you were hiring an employee -- you're the boss. And as the boss, it's not only okay to ask questions, it's crucial. This is not the time to be timid and simply assume everything will work out. This is the time to be firm, confident and in charge.

---

Step 2: Do Your Research

You wouldn't hire a photographer without seeing a sample of their work, so never hire a contractor without first looking at their past projects. Asking a contractor for photos of previous jobs might seem as if you're being nosey, but remember -- you're the boss. Request a list of 10 previous customers from the past year, complete with contact information, and follow up with the customers. (You won't need to call all 10 names on the list, but it's nice to have options. Call at least three names to start.)

If a reference had a problem, ask them how they handled it and follow up with the contractor to get both sides of the story. You can also contact the Better Business Bureau and/or licensing departments to find any complaints that have been filed against the contractor.

And though it may seem obvious, check to make sure the contractor has a legitimate mailing address. Are they a real company with a real location? If they only list a P.O. Box, ask for the street address.

Also check that the company has been around for a few years. Older is usually better. When it comes to contracting work, experience is king. You might get a lower bid from a new contractor, but if you're unable to check their previous work, tread carefully.

---

Step 3: Understand the Paperwork

It can be easy to get lost and frustrated among all the different licenses, insurances, certifications and warranties. Simply put, here's what you want out of a quality contractor:

Insurance

There are two kinds of insurance, and both are crucial: General liability insurance will protect you if the contractor damages your home or property. Workers' compensation insurance protects you if the contractor is injured on the job.

If the contractor doesn't have both, you're at great financial risk should anything go wrong. Ask for proof of both insurance policies, and don't accept anything else. A contractor may try to tell you that his health insurance or life insurance covers your liability, but that's not true. A quality contractor will have general liability insurance AND workers' compensation insurance.

Licenses and Certifications

A business license is not the same as a contractor license. A business license only means the company is filing their taxes. A contractor license, required by some states, means the contractor passed a written exam in their field.

Many industries also offer credential programs for contractors in their field. These programs require that contractors receive education-based training on proper installation, maintain necessary licenses and insurance, and have experience working with the materials.

You can also use these programs to find a contractor that shares your values. There are innovations and new materials being developed all the time, hiring a contractor who keeps on top of industry technologies can benefit your project.

Warranties

Typically, a contractor will offer a workmanship warranty that covers their work for one year or more. Remember, if anything will go wrong with a project it usually happens quickly, so longer warranties aren't necessarily more valuable. And a good contractor will stand by their work and honor a warranty even after the warranty lapses.

A workmanship warranty is different from a manufacturer's warranty. A manufacturer's warranty covers the material against defects in manufacturing. Ask for a copy of the manufacturer's warranty and review it. Improper installation may void a manufacturer's warranty, which is another reason why properly credentialed contractors are recommended.

---

Step 4: Don't Sign Anything Yet

You're eager to start the job and have your dream project finished, but don't rush into things. Before you sign a contract, make sure you understand the proposal. And know the difference between an estimate and a proposal.

An estimate is just that...an estimate. It's a very general description of the project with a single price. You won't find details here. It's a ballpark figure and should be treated as such. Use it to help guide your decision, but know that everything can change.

A proposal is more specific and is a tentative agreement for the project. Here you'll see options such as color, brand, price and performance. Keep in mind, more options to the project may be available. Some contractors omit these upgrade options from a proposal because they don't want to scare away potential customers with a higher bid. Ask your contractor to include a separate pricing list for possible upgrades so you can make a more informed decision. There might be something on the market that you'll love, but the contractor left off the proposal for budgetary reasons.

And always be wary of low bids. If the offer seems too good to be true, it generally is. Now is not the time to look for the lowest bidder. Low bids often mean shortcuts will be taken, or the contractor lacks the proper insurance and credentials.

---

Step 5: Building Trust

Your contractor is here to help and wants you to be satisfied with the job. If the contractor offers suggestions and opinions based on their expertise, take note and be open-minded. They know what they're talking about and can recommend products and strategies you may have otherwise missed. While you should be involved with the decision making process, trust that your contractor has your best interests at heart.

---

Step 6: Go Over All the Contract Details

You did it! You've found a contractor who suits your needs and is ready to work. Now it's time to go over the nitty-gritty details of the contract. Before signing a contract, read it -- all of it. If the wording is confusing, speak up now before you put pen to paper. Here are some important questions that should be addressed in the contract:

Who's doing the job?

A contractor may hire subcontractors to do the actual work instead of using their own installers. This isn't a bad thing, and doesn't necessarily mean the contractor is trying to trick you. The contractor may have a long-standing relationship with the subcontractor and trusts their work. If your contractor uses outside help, just make sure the person you hired is closely managing the project.

Are permit costs included?

Who obtains the permits? Have inspections been planned? What about provisions for posting zoning notices?

Is it clear what products will be used?

Is the specific material (including the name of product and color) listed in the contract? Is there reference to the manufacturer's warranty? And does the contract confirm that the materials will be installed according to the manufacturer's instructions?

When will the project be finished?

Thanks to Mother Nature, it can be impossible to determine strict start and stop dates, but you can negotiate a "no-later-than" clause (required by some states), and enforce it. You can also reward the contractor for finishing early.

Right-to-Rescind?

Usually, you will have three days to cancel a contract without penalty.

What are the workmanship warranty terms?

This should be clearly stated in the contract.

Who cleans up?

No one wants a messy project. Does the contract require daily cleanup of the site? Picking up trash, even if it the blows onto the neighbor's yard, is part of job site cleanup. You can also include clauses about dress code and music volume.

Was that there?

Before construction begins, walk around the job site with the contractor to establish a condition of the place. In some cases damage may be unavoidable but agree on what is and is not reasonable.

---

Step 7: Payment

Never pay more than 50% of the job's estimate until work has begun. And never pay in cash. You'll always want a clear paper trail showing money paid and money owed. But also be aware that if a contractor feels they are not being paid in a timely manner, they will leave the job unfinished and finding another contractor to finish the work can be difficult.

Finding a great contractor doesn't need to cause anxiety and stress. Asking the right questions and understanding the answers will ensure your project's success.
The Information Above was Found on certainteed.com
---
DunRite Exteriors - On the Best Roof's in Ohio

1 (800) 422-7483

---