It Takes More Than Just Shingles to Create a High-Performance Roof
Here's an Educational Series on the Importance of a Complete Roofing System
---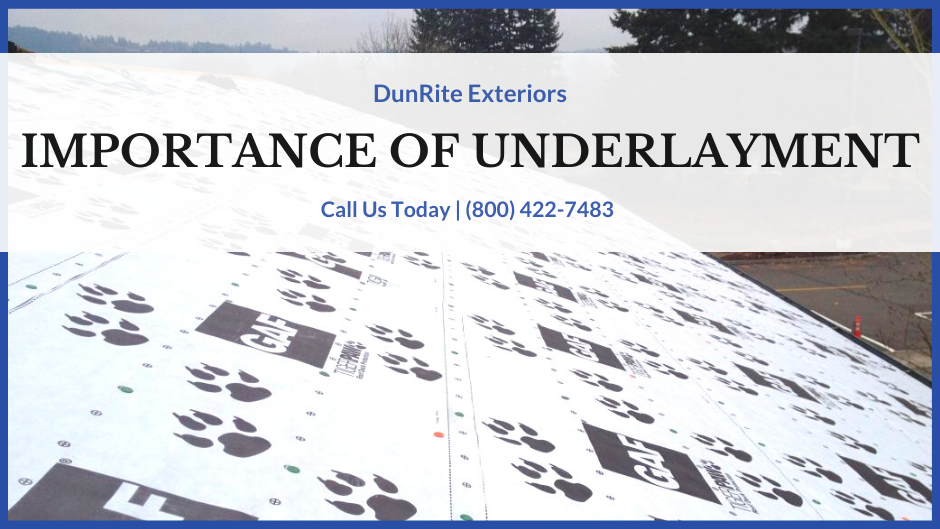 ---
The Importance of Underlayment
It takes more than shingles to create a high-performance roof. It requires a system of materials and products working together. This report explains why underlayment is critical for maximizing the performance and beauty of your roof.
Reviewing This Bulletin Will Help You:
Understand the importance of underlayment in your roofing system
Understand the variety of roofing underlayments available to you
---
What's Under Your Shingles?
A common mistake in the installation of asphalt shingles is the practice of not using underlayment. This is a big mistake for several reasons:
Underlayment helps protect your wooden deck from moisture until the shingles are applied, and if the shingles are blown off at a later time.
After installation, wind-driven rain can get under shingles and damage the inside of your home; underlayment provides another layer of protection.
Underlayment is generally needed to maintain a Class A Fire Rating for your roof assembly.
Your insurance company may require shingles to be installed according to manufacturer's specifications, which usually call for underlayment.
Underlayment protects shingles from resins that can be released by the wood decking.
Underlayment can help bridge irregularities in decking to make your roof look better.
For all of these reasons and more, underlayment is a critical part of a complete roofing system.
---
Underlayment 101
Your roof is a system designed to shed water. Rain and snow melt travel down the slopes of your roof to the gutters that collect it or carry it away. Shingles rely on the slope of the roof and gravity to move the water and keep it from entering your house.
While this process works well most of the time, it is possible for wind-driven rain to get under your shingles or enter along valleys where water flows. Without underlayment, you have nothing to prevent a leak from occurring. With underlayment, your home has a second line of defense to keep water channeled down the slope and away from your home.
Also known as roofing felt or tar paper, underlayment has for decades been made with an organic, paper-based "felt" that is saturated with roofing asphalt. The material is sometimes called 15- or 30-pound felt because a square of the product originally weighed 15 or 30 pounds. Asphalt-saturated felt is water resistant; therefore it provides a temporary barrier against the elements.
On low slope roofs, building codes typically require that underlayment be doubled to protect the roof sheathing and structure from moisture penetration. Additional leak protection can be added by applying a layer of self adhering waterproofing underlayment.
Advances in roofing systems and underlayments have led to stronger, longer-lasting products that can hold up better against the worst that nature has to offer. These products should be considered for additional protection to your home.
Synthetic underlayments have recently been introduced in the roofing industry. They are typically constructed with a polymer fabric to provide a temporary waterproof barrier before the shingles are installed. The advantage of these underlayments is that they can be left exposed for many months, when installed properly, before the shingles are installed, helping protect your roof deck from moisture damage.
A Key Question to Ask Your Contractor for a Quality Roofing Job:
What underlayment are you applying with my shingles and why?
The Information Above was Found on owenscorning.com
---
When You're Ready for a New Roof, Call DunRite Exteriors Today!
Our qualified team members here at DunRite Exteriors go above and beyond to provide the highest quality products and services to our customers. That is why we have chosen GAF's roof deck protection, roofing felt and underlayment which will help provide an extra layer of protection between our client's shingles and roof deck. If you would like to learn more about the various types of underlayment we offer, please click here.
Then, when you're ready to get started, give us a call at (800) 422-7483, and we would be more than happy to assist you with ALL of your roofing needs and MORE. We look forward to hearing from you and hope to work with you soon.
---
DunRite Exteriors - On the Best Roof's in Ohio

1 (800) 422-7483

---