Over Time, Water Causes Wood to Rot, Destroys Drywall and Encourages Mold Growth
If Your Roof Needs to Be Repaired or Replaced, Feel Free To Give Us a Call Today!
---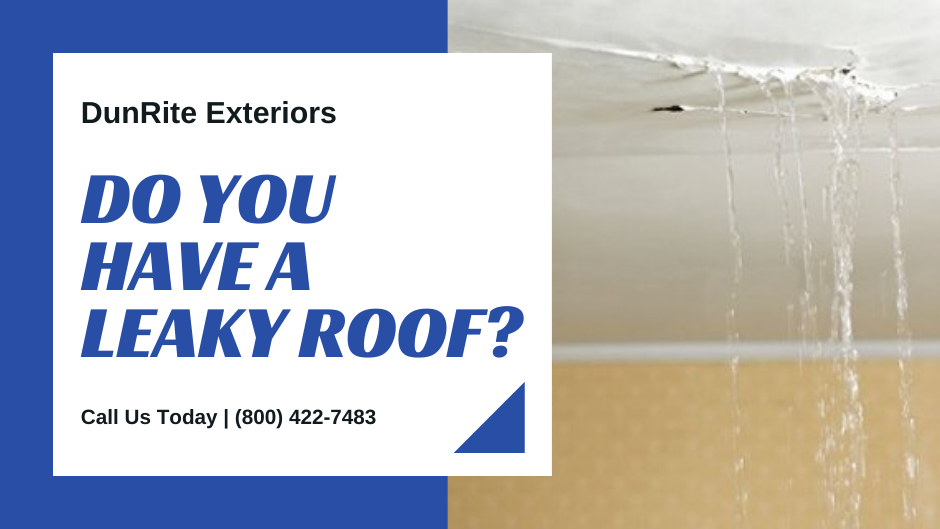 ---
Address Your Leaky Roof Right Away!
Without much thought, we depend on our roofs. Finding a leak can be alarming, but it may be an easy, inexpensive fix. If you've noticed sagging drywall, a spreading water stain or an active drip, your roof has probably sprung a leak. Don't ignore it. Leaks can slowly damage the interior of a home. Over time, water causes wood to rot, destroys drywall and encourages mold growth. You can always hire a professional to find and repair the leak.
This guide walks you through how to find and repair leaks in shingled roofs. Though we won't cover flat, metal or membrane styles - the discovery techniques used here can be useful for other types of sloped roofs.
---
Finding a Roof Leak
This section is a step-by-step guide to find the source. Some methods require two people plus roof and attic access. Contact a professional if you're unable to execute any of these steps safely.
Locating the exact leak location isn't always as straightforward as it may sound, especially with pitched roofs. Leaks tend to be higher up from the obvious interior leak. Water gets under the shingles and then travels down the rafters or sheathing before finally finding a nail or protrusion to aim that stream of water at your ceiling. Once there, it may pool and cause sagging or bubbling, or it may travel farther, finding light fixtures or other openings to drain through.
Below are the tools you'll need to help you discover the source of the problem.
A Helper
Ladder
Garden Hose (if it's not raining)
Dust Mask
Flashlight
Tape Measure
---
How to Find the Leak
Have one person enter the attic. Use a dust mask. Locate the area where water is leaking through your ceiling. If you have exposed fiberglass insulation, move it aside
Tip: Wear long sleeves, a dust mask and gloves when working with fiberglass insulation to prevent itching and irritation.
Scan for water damage. Look above the ceiling leak point and scan the sheathing leading towards the peak of the roof. It may not be a direct line, but it will always be above the ceiling leak location.
Run water on the outside with a hose. Have one person climb on the roof and spray water above the suspected leak location. You may need to do this for a few minutes before you find it.
Tip: You'll be walking on a wet, slippery roof, use a proper safety harness attached securely to your roof.
Mark the leak location. You can mark the leak location from within the attic or simply measure the distance from the highest point to the water damage. Then, have the other person measure from the ridgeline of the roof down the same distance. This is the source of your leak.
---
Common Causes
Weather, such as high winds and hail, can damage your shingles either directly or by knocking dead and dying branches from overhanging trees. Shingles don't last forever. They usually come with a warrantied period of 15 to 50 years. As they age, they are more prone to damage from weather.
Misdiagnosing leads to further damage. If the cause isn't apparent, contact a professional. Depending on the cause of the damage, insurance will often cover replacement. Insurance companies typically require a licensed professional.
Missing Shingles– Shingles come with a wind rating. The type on your home usually exceeds local weather requirements. Even so, wind can rip a shingle off, creating a perfect path for water to enter your home.
Cracked or Damaged Shingles – Overhanging branches or hail can break the material, regardless of type. Keep trees trimmed and purchase ones with a high hail rating.
Gaps – With age, wood swelling and settling, gaps can form around flashing.
Broken or Worn Flashing – When flashing fails, replace it along with any adhesives and sealants.
---
Roof Inspections
Whatever the age of your roof or the cause of a leak, you should have a roof inspection performed. A leak may indicate other unnoticed or underlying issues such as improper installation or structural issues. These can lead to further leaks and costly damage.
---
Temporary Fixes for Emergency Leaks
Sometimes, you just need a quick fix to keep the problem from getting worse while you wait for help to arrive. A tree limb snaps and impales your new roof, lightning strikes or a rogue hailstone punches through a weak spot. Whatever the cause, you have a hole with rain pouring in. For large holes, use a tarp or plastic sheeting with a couple two by fours.
Note: Since shingle types and causes vary, so will the fixes. In almost all cases, you'll want to fix damaged or missing shingles mechanically. Temporary fixes like sealants and tarps are always a short-term solution but may be necessary for emergency or budgetary reasons.
To continue reading the rest of this article, please click here
---
DunRite Exteriors - On the Best Roof's in Ohio

1 (800) 422-7483

---