Hard Working, Fast Paced, and High-Quality Individuals Wanted!
Apply For This Position on Our WEBSITE Today!
---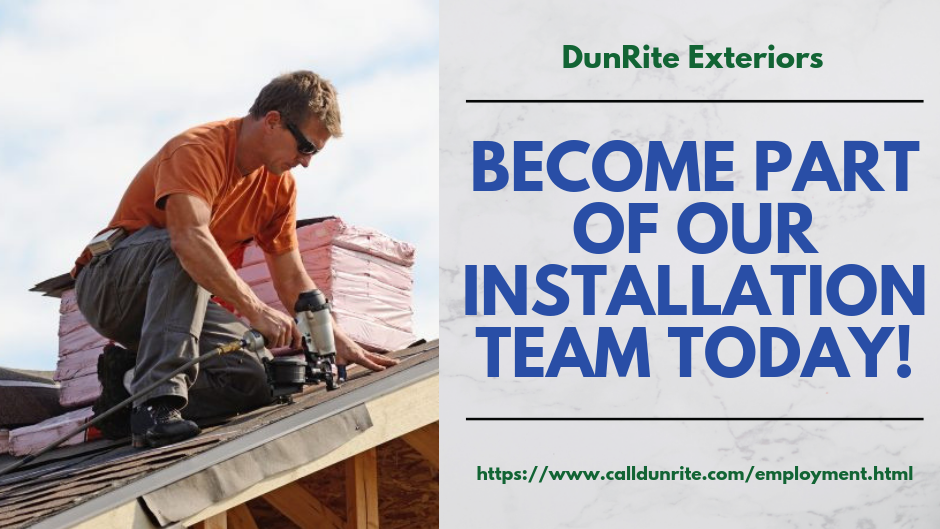 ---
We're Hiring Roof & Gutter Installers Now!
DunRite Exteriors is an Industry Leader in the Roofing and Gutter industry for nearly 30 years, we are the exclusive provider of the K-Guard Leaf Free Gutter System and Gutter Filter.
We are looking for Roof and Gutter Installers who are eager to earn a great living. These people must like to meet new people and helping them while working outside daily.
There are immediate openings for experienced and inexperienced individuals in the Door to Door lead generation field. We will provide paid training to set all Field Marketers up for success.
Base hourly rate based upon experience with bonuses will allow for an uncapped potential with ongoing training.
Roof and Gutter Installers will be the face of the company, they will need to be neat, upbeat and love what they do while working outside.
---
Qualifications:
Outgoing
Self-motivated
Excellent communication skills
Positive and energetic
Ability to think on their feet
Reliable transportation
Pass a background check (NO Felonies)
Ability to stand and walk long distances
Flexible hours and able to work Saturdays
Goal oriented
Confident
Creative
Problem solving
---
Compensation:
Hourly base $700.00 - $1,200.00 per Week
Bonuses based on booked appointments
Weekly Pay
W2 employee
Health Insurance
Job Type: Full-time
Salary: $700.00 to $1,200.00 /week
---
DunRite Exteriors - On the Best Roof's in Ohio

1 (800) 422-7483

---