BEFORE Replacing Your Shingled Roof, Consider These Different Things
Then, If Your Roof Needs to Be Repaired or Replaced, Give Us a Call!
---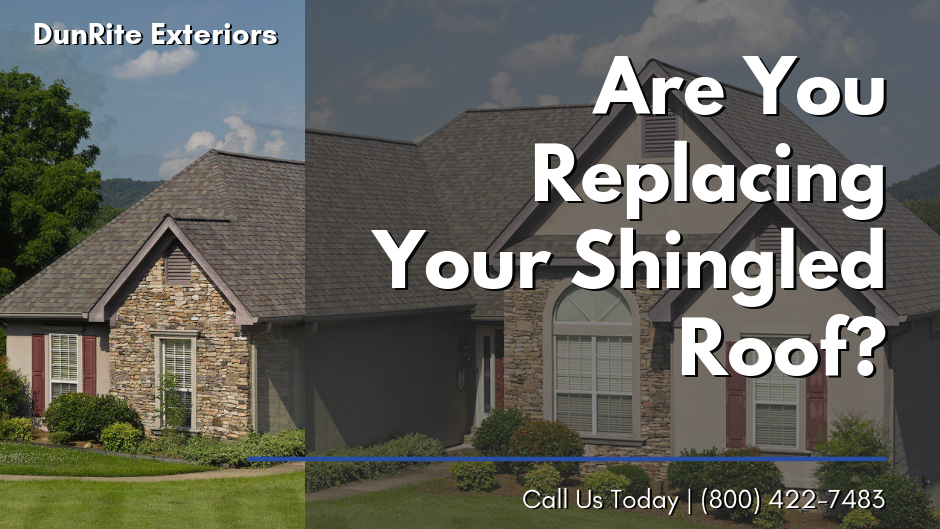 ---
Do Your Research Before Having Your New Roof Installed!
Replacing a shingled roof is one of the most important projects a homeowner will ever take on. Uninformed purchasing choices and contractor selection often result in roof failure later on that will compromise structural integrity and cost the homeowner thousands of dollars in repair and replacement efforts. However, when you prepare yourself with a little information, you'll be able to make wise choices and talk to your roofing contractor like a pro.
---
To Re-Roof or Not to Re-Roof

Determine whether or not your roof needs a complete shingle replacement or a skillful repair. A qualified contractor can repair a few missing shingles after a storm or a few holes caused by protruding nail heads. If the mineral granules wash into rain gutters, many shingles tear off, or the roof looks wavy like a washboard, it's probably wise to have a complete replacement. Keep in mind that any damage to the wood underlay will also require a complete shingle removal. A reputable, licensed roofing contractor, such as DunRite Exteriors, can help you decide how extensive your project should be.

---

Tear Off or Shingle Over

Just because shingles need replacement doesn't mean they must go. Building codes typically allow two layers of asphalt shingles on roofs with 4/12 or lesser pitch. That is a 4-inch drop for every 12 inches of horizontal length. Some allow three layers on steeper roofs. Roofs will need to be completely torn off if they have too many missing shingles, buckled sheathing or if they need extensive re-flashing. Slate, concrete, wooden and clay shingles must also be removed. The cost of putting new shingles over a sound layer of existing shingles can be considerably less than a complete tear-off.

---

I Know a Guy Who...

Just because your roofer is your best friend's nephew doesn't mean he'll do a professional job. Hire only licensed, bonded roofers who guarantee their work. Your roofer should have experience in roofing your type of roof. Roofing a modular with a single, low-pitch gable is different from roofing a Painted Lady with steep gables, dormers and a host of chimneys. Consult the Better Business Bureau, professional referral services -- Angie's List, for example -- or your municipality's home improvement commission to see if your candidate has had consumer complaints or legal action filed against him.

---

Is the Price "Really" Right?

Make sure all roofers bid on precisely the same product and installation specifications. A contractor whose bid comes in much lower than the pack may be cutting corners on installation or using inferior materials. Choose a roofer whose past successes and professionalism impress you and whose price fits your budget. The same rule applies to the materials you specify. Quality shingles with 30- or 50-year warranties cost more than budget shingles. In the same vein, skimping on nails can result in shingles tearing off during high winds.
The Information Above was Found on homeguides.sfgate.com
---
When You Want It Done Right, Call DunRite Exteriors!
As an industry leader based out of Macedonia, OH, we have become one of Ohio' s most reliable and respected roofing companies. We continuously strive to provide a high level of value and customer service to our residential and commercial customers.
We service all of Northeastern Ohio's roofing needs in Akron, Cleveland, Canton and all surrounding areas.
We pride ourselves in being at the forefront of roof system technologies, and application techniques. DunRite is the only roofing contractor in Ohio certified to offer the highest rated warranties of the three major shingle manufacturers. The entire DunRite team is committed to meeting your roofing needs, and as a result, a high percentage of our business is from repeat customers and referrals. When you're ready to get started, give us a call at 1 (800) 422-7483!
---
DunRite Exteriors - On the Best Roof's in Ohio

1 (800) 422-7483

---