Our Process Includes a Safe Ice Dam Removal Service by Utilizing the Arctic Steamer
The Use of High Temperatures & Low Pressure Safely Remove Ice from Your Roof

---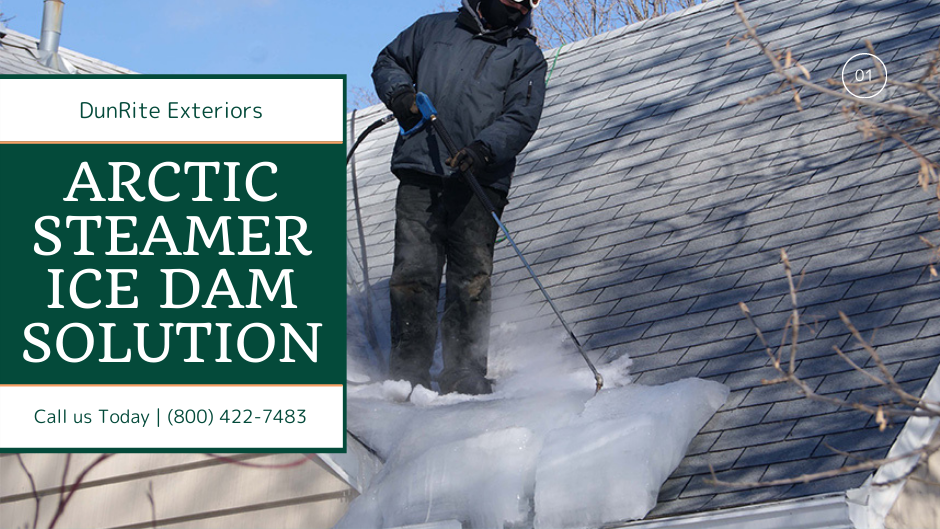 ---
Is Your Roof a Victim of Ice Dams?
Many homeowners in Northeast Ohio deal with ice dams and icicles throughout the winter. Not only are icicles potentially dangerous, but ice dams can cause costly damage to your home. When ice dams build up, water from melting snow travels down the roof and pools up when it is blocked by ice. Then, water sometimes gets under the shingles and leaks into the home. The best solution for ice dams is to make sure your roof isn't susceptible, but sometimes ice dams form and require an immediate solution. Luckily for our customers, we have the perfect solution - the Arctic Steamer ice dam solution.
---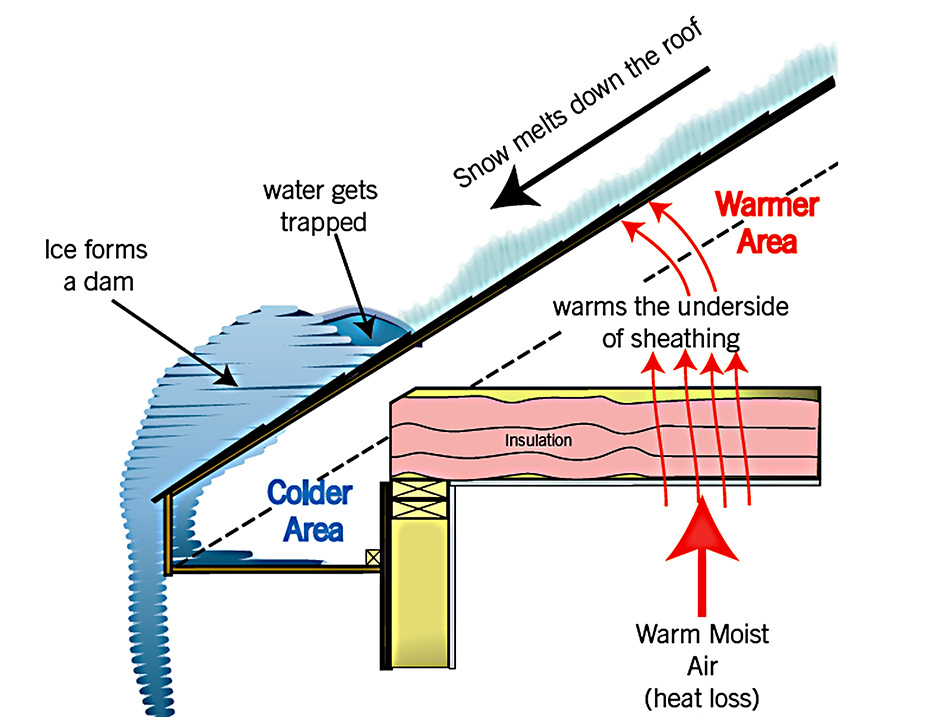 (Ice Dam Graphic)
Our Arctic Steamer Ice Dam Solution Can Help!
There are a few options to prevent ice dam formation, but removing existing ice dams is a different story. If you have water leaking into your home due to ice dams, it's important to resolve the situation as quickly as possible to prevent more damage from occurring. At DunRite Exteriors, we can remove ice dams from your home with the Arctic Steamer ice dam solution.
The Arctic Steamer uses high temperatures and low pressure to remove ice from your roof. The use of steam is recommended because the low pressure will not harm the roofing materials. Hot water pressure washers can damage the shingles, meaning they are more appropriate for use on sidewalks and driveways. The Arctic Steamer operates at the optimal temperature of 290 degrees, which leads to less water runoff and faster ice removal. Leakage from ice dams is a time-sensitive problem, and we can usually perform your ice dam removal within 24 hours. Removal time depends on factors such as the amount of ice, but the average project takes about 2 hours.
---
We Can Also Offer You a Long-Term Solution
Yes, removing ice dams with steam will alleviate the issue for a short time, but what about long-term? If you're looking for something that will last longer, our qualified team members would be more than happy to assist you with that as well! This may include repairing the area that is vulnerable to leaking or correcting attic insulation or ventilation issues that cause ice dam formation. Keep in mind, however, that sometimes, insulation and ventilation issues are not correctable due to cost or the design of the home. If insulation or ventilation issues are not correctable for you, don't freight! There are other options such as installing heating cables on your roof which will prevent ice formation long-term - which we can help with!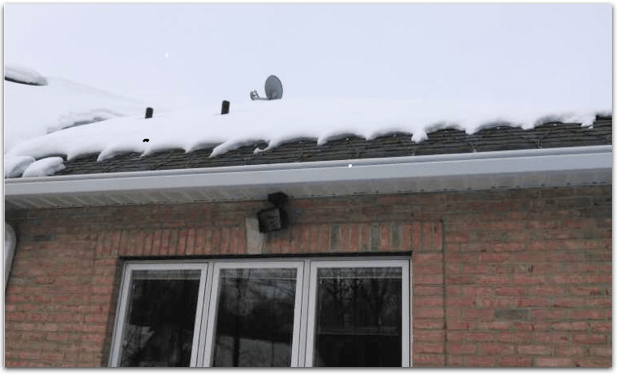 (Heated Cables on a Roof)
Additionally, if you have a K-Guard Leaf Free Gutter System, we can also install heat cables inside your gutter system. Heated K-Guard Gutters contain two heat cables inside the gutter system, one on the underside of the hood and one at the bottom of the trough. Cables will also be installed inside your downspouts to prevent freezing. If you're dealing with ice dams, we'll conduct an inspection of your roof and attic and give you a free, no-obligation estimate for a long-term solution. If you would like to learn more, or to schedule an ice dam removal, give us a call today - (800) 422-7483.
---
DunRite Exteriors - On the Best Roof's in Ohio

1 (800) 422-7483

---